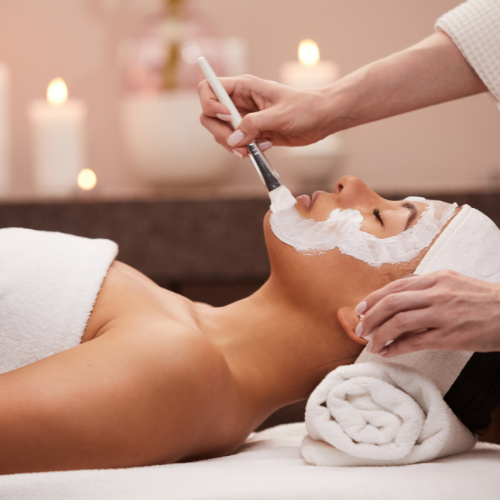 Professional facials can be valuable to maintaining healthy, more you1hful looking skin. While other parts of the body are often covered with protective clothing. The face is rarely covered and is exposed. There are several factors that often compromise or impact the face, such as ultraviolet radiation from the sun, climate changes, dry heat in the winter, cold air-conditioned rooms in the summer, dust chemicals, secondhand smoke, stress, air pollution, and sleeping in makeup.
That's only half the story. What about what we put into the body that impacts the skin? Medications, tobacco, caffeine, and our diet all impact our skin.
Having a personal esthetician to guide you through the minefields of aging skin is not a bad idea.
An Esthetician is like a hygienist
An esthetician is to the dermatologist as a hygienist is to the dentist. The hygienist deep cleans the teeth for the dentist, removes plaque and tartar, and provides preventive care as well as instructions for home care. In the same way, the esthetician cleanses the skin, removes dead skin cells, performs extractions, prepares personalized treatments, and gives instructions for home care. The esthetician can provide these services for the dermatologist or plastic surgeon in a spa, clinic, or studio environment Just as it is important to have your teeth cleaned by a hygienist, and it is also significant to have esthetician care for your skin.
Skin Is Ever-Changing
Another thing to consider is that your skin is ever-changing. What your skin needs in your 20s is not necessarily what it needs in your 40s or 50s. What your skin needs in June is not necessarily what it needs in January. Skin changes from year to year, month to month, and even from day to day. Because it is constantly changing, it is a tremendous asset to have the help of a professional as you identify what your skin actually needs.
Skin is the fastest-growing organ of the human body, and because it acts as a protective covering, it is constantly exposed to many elements. Adult skin renews itself every 28-48 days, depending on age and the condition of the skin. Like everything else, the older we get, the renewing process slows down. As the skin ages and the production of collagen slows down, you begin to see signs of wrinkles, loss of elasticity, tone, and a lack of connective tissue.
Detailed Precision and Purpose
Your esthetician is trained to identify the true condition of your skin and address your issues. Every single detail is done with precision and purpose – from customized product choices, manual and mechanical tools, facial massage techniques that encourage muscle firmness, and even select music because when the body is relaxed, the skin is relaxed. When the skin is relaxed, you have a greater opportunity of product penetration.
Appearance is one of the leading factors that influences social interaction. When we feel our skin looks radiant, healthy ,and youthful, it provides another building block for self-confidence. Making the decision to have a professional licensed esthetician join you on your skincare journey is one of the kindest things you can do for your skin. The day you start getting professional facials is the same day you start to slow down the aging process of your skin!
Deloris' Top 3 Facials

1. Dry Skin Treatment Avene Hydrotherapy Facial
2. Anti-Aging Treatment
Yon-Ka Alpha-Vita Facial
3. Discoloration/Acne Treatment SkinCeuticals Brightening Facial
Contact Us